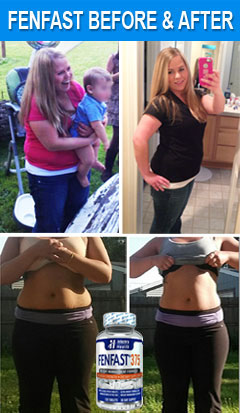 How Does FENFAST 375 Work?
FENFAST 375 diet pills combine powerful thermogenics with high quality diet support ingredients. Backed by hundreds of 5-Star customer reviews†, FENFAST 375 is our top-selling diet pill that may improve energy and focus to support a successful weight management strategy.
FENFAST 375 is manufactured in the USA with high quality, tested ingredients that have been combined into an easy-to-swallow, white & blue speck tablet. It was developed to use an optimal combination of ingredients that can complement a healthy diet program. FENFAST 375 has been a part of the lives of THOUSANDS of dieters who have reached a healthier weight and the proof is with their satisfaction – our customers leave the BEST REVIEWS!
Because of the design and formulation of FENFAST 375, adults of all ages, shapes and sizes are able to use it as a part of a healthy diet plan that will help them to finally achieve a leaner body. FENFAST 375 achieves this with its formulation of ingredients that include: L-Phenylalanine, Caffeine, L-Theanine and Theobromine.
The ingredients in FENFAST 375 are intended to work synergistically, amplifying each of their benefits and providing the ULTIMATE in DIET SUPPORT & ENERGY ENHANCEMENT for the BEST DIET SUCCESS*.
FENFAST 375 BENEFITS MAY INCLUDE:
SUPPORTING HEALTHIER EATING HABITS* - One of the most difficult aspects of managing weight is sticking to a reduced calorie diet plan containing healthy foods. This is where most dieters struggle and fail. However, when you take FENFAST 375, you take advantage of ingredients that have been help banish fatigue and improve focus, which are two major reasons dieters turn to unhealthy foods. With fatigue eliminated and greater focus to eat healthfully, dieting becomes less of a challenge. FENFAST 375 diet pills can play an important role in the reduction of calories you consume each day, which can result in fast and noticeable results when combined with a regular exercise routine.*
HEALTHY METABOLISM SUPPORT* – Do you feel like no matter what you do, the weight just doesn't come off? If you do, you are not alone. A slow-running metabolism can hinder even your best dieting efforts, which is why FENFAST 375 includes metabolic support. The use of industry-leading thermogenic ingredients can help support your metabolism, especially during workouts.*
IMMEDIATE ENERGY RELEASE* – FENFAST 375's energy-promoting formula can extinguish those sluggish feelings you have during the day and replace them with ENERGY, IMPROVED CONCENTRATION & FOCUS. Not only will this help you to feel great and be more productive during the day even though you are eating less, but it will also give you the energy and motivation you need to keep up a more active lifestyle, which is essential for losing weight. Intensify your workouts and watch your body rapidly transform!*
GET THE DIET SUPPORT & ENERGY YOU NEED WITH FENFAST 375!*
FENFAST Supports Results: Just take a look at our customer reviews that speak for themselves!†


FENFAST 375 Supplement Facts & Cautions
What is FENFAST® 375?
FENFAST 375 is dietary supplement. It is sold as white with blue specks tablets with a FENFAST punch on one side. The ingredients in FENFAST 375 are: L-Phenylalanine, Caffeine, L-Theanine and Theobromine.
How to Take FENFAST® 375?
As a dietary supplement, take two (2) tablets of FENFAST® 375 with 8oz of water 2 times daily, approximately 30 minutes before meals. This product is intended to be used along with a calorie-reduced diet and regular exercise program. Do not take within 5 hours of sleep.
What do I do if I miss a dose?
If you miss a dose, take the next as recommended. Do not double the next dose.
What should I know before taking FENFAST 375?
READ ENTIRE LABEL PRIOR TO USE. This product is not intended for pregnant or nursing mothers, women trying to become pregnant, children under the age of 18, or individuals taking prescription drugs. Consult a Physician before using this product if you have, or have a family history of, including but not limited to Phenylketonuria, high blood pressure, cardiac arrhythmias, heart, liver, kidney, thyroid, or psychiatric disease, pheochromocytoma, diabetes, asthma, recurrent headaches, anemia, nervousness, anxiety, depression or other psychiatric condition, peptic ulcers, Parkinson's disease, glaucoma, difficulty in urinating, prostate enlargement, or seizure disorder, or if you are using any other dietary supplement or over-the-counter drug containing ephedrine, pseudo- ephedrine, or phenylpropanolamine (ingredients found in certain allergy, asthma, cough or cold, and weight control products). Do not use this product if you are using a monoamine oxidase inhibitor (MAOI), anticoagulant or antiplatelet medications, or any other prescription drug. Discontinue use and call a physician or licensed qualified health care professional immediately if you experience rapid heartbeat, dizziness, severe headache, shortness of breath, or other similar symptoms. Individuals who consume caffeine with this product may experience serious adverse health effects and those that are sensitive to the effects of caffeine should consult a Physician before consuming this product. Improper use of this product may be hazardous to a person's health. Do not exceed the recommended dose. KEEP OUT OF THE REACH OF CHILDREN.
What are the potential side effects from taking FENFAST 375
When taken as directed, there should not be any severe side effects. Some people who are sensitive to stimulants may become excited and/or jittery or experience mild headaches. As with any product, there is always the possibility of an allergic reaction to one of the ingredients. If you have any unusual symptoms when taking this product, discontinue its use right away. If symptoms are severe, please seek medical attention.
†Some customers have received compensation in exchange for their honest review regarding their experience with a product. Results in customer reviews may be atypical and results will vary on individual circumstances. We recommend all products be used with a healthy diet & exercise.